About the Journal
Proceeding title
 : International Social Sciences and Humanities
Initials
 : ISSH
Frequency
 : 2 issues per year
Prefiks DOI
 : 10.47134  
Online ISSN
 : 2828-5662
Editor In Chief

 :

Siti Nursyamsiyah |||
Publisher
 : Universitas Muhammadiyah Jember
Aims and Scope
Discover a wide array of proceedings in International Social Sciences and Humanities, with prospective papers from prolific researchers in their respective areas. The research reports enable the demonstration of descriptive studies in current trends in the society and observation reflected through field research that gives contributive impact to the development of humanities studies.
The series covers edited volumes and conference proceedings on several areas. The subject areas covered by the series are:
Psychology
Philosophy and Behavioral Studies
Sociology
Law and Legal Studies
Economics
Language and Literature
History
Political Studies
Islamic Studies
Religion and Cultural Studies
Art
Tourism
Archaeology
Anthropology
Inter-cultural studies
Development
Geography
Human Factors and Ergonomics
Library and Information Sciences
Safety Research
Transportation
International Social Sciences and Humanities has been indexed by :
Recommended Tools :
Current Issue
Vol. 2 No. 2 (2023): Proceedings of Konferensi Pendidikan Internasional (KOPI)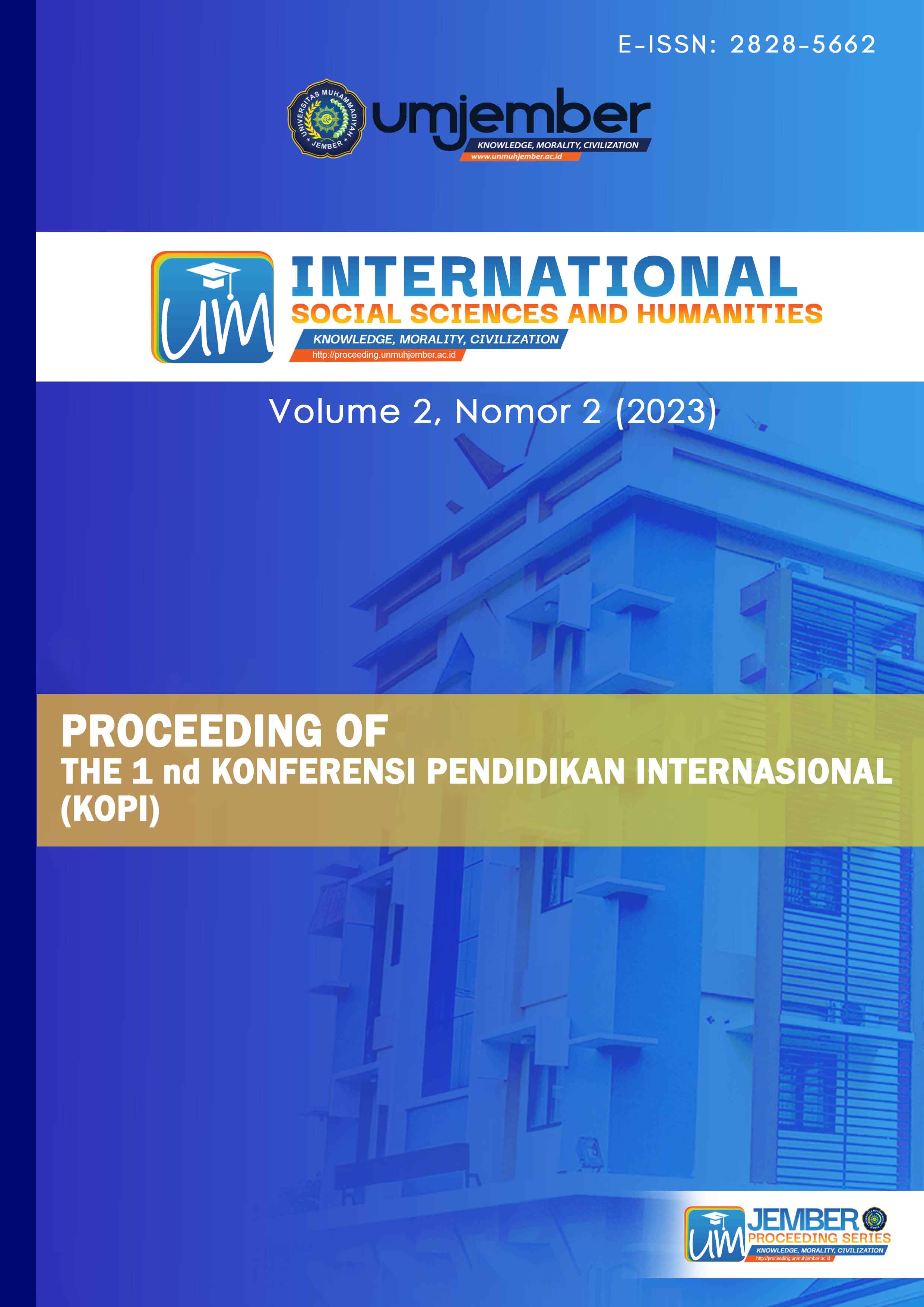 Konferensi Pendidikan Internasional (KOPI, or in English, The Conference on International Education) is a remarkable platform where scholars, educators, and policymakers gather to delve into the pressing issues and emerging trends in the field of education. In response to the diverse challenges faced in the realm of global education, the Faculty Teacher Training and Education, Universitas Muhammadiyah Jember, takes great pride in hosting the esteemed event, known as Konferensi Pendidikan Internasional (KOPI), under the theme "Curriculum Development: Retrieval or Restoration."
In recent years, the world has witnessed a multitude of phenomena affecting education, stemming from various transitions in health, economy, and other domains. The repercussions of these transitions have profoundly impacted teaching and learning across all levels of education, from the foundational to the advanced (Donnelly & Patrinos, 2022). Specifically, within Indonesia, the Ministry of Education's data reveals a significant loss in literacy learning for a period of six months and numeracy learning for five months. It is estimated that many schools continue to grapple with learning setbacks that surpass the aforementioned average. In light of these circumstances, the Ministry of Education, Culture, Research, and Technology (Kemendikbudristek) issued a policy in 2022 to implement emergency and prototype curricula as part of the recovery process. Consequently, the Merdeka curriculum was officially implemented shortly thereafter.
Full Issue
View All Issues