The Impact of Flashcard Media Towards English Vocabulary For Disability Students At SLB Negeri Sorong Regency
Keywords:
Flashcard, Vocabulary, Mental Retardation
Abstract
The objective of this research is to find out whether a flashcard media impact or not in teaching vocabulary for disability students especially mental retardation at SLB Negeri Sorong Regency. Related to the objective, the research used pre-experimental research design. The population of this research was seventh grade students of SLB Negeri Sorong Regency which consist of 7 students. The sample of this research was 5 students of seventh grade who considered have mental retardation. The researcher used 10 matched words from the pretest and posttest when gathering data. The researcher calculated the data using the SPSS 20 application for analyzing the data.  After Analyzed the result of paired sample T-test, the Alternative hypothesis which said that Flashcard media impact the student's vocabulary at SLB Negeri Sorong Regency especially students with mental retardation is accepted and the Null hypothesis is rejected. In addition to result of P-Value (0.001) than smaller P-value (0.05).It means that the students' vocabulary score between pretest and posttest is significantly different. It can be concluded that flashcard media impacts the students' vocabulary for disability students' especially for mental retardation.
Downloads
Download data is not yet available.
References
N. C. Wahyuni, "The Use of Puppet and Flashcard as Media in Teaching Vocabulary for Children with Special Needs," ELT Forum: Journal of English Language Teaching, vol. 8, no. 2, pp. 136–142, Nov. 2019, doi: 10.15294/elt.v8i2.31786.
H. Herlina and R. R. Dewi, "FLASHCARD MEDIA: THE MEDIA FOR DEVELOPING STUDENTS UNDERSTANDING FOR ENGLISH VOCABULARY AT ELEMENTARY SCHOOL," IJER - INDONESIAN JOURNAL OF EDUCATIONAL REVIEW, vol. 4, no. 1, p. 116, Jul. 2017, doi: 10.21009/IJER.04.01.11.
J. Scrivener, Learning Teaching The Essensial Giude to English Language Teaching. Cambridge: Macmillan, 2010.
H. Nugroho, "The Use of Flashcards in Improving Vocabulary Mastery of Students with Disability," Inklusi Journal Of Disability Studies, 2017.
W. Hamer and N. A. Rohimajaya, "Using Flash Card as Instructional Media to Enrich the Students' Vocabulary Mastery in Learning English," Journal of English Language Studies, vol. 3, no. 2, p. 167, Sep. 2018, doi: 10.30870/jels.v3i2.3875.
I. G. A. W. Yuliantari, N. N. Padmadewi, and I. G. Budasi, "The Implementation of Learning Vocabulary Using Flashcard for Young Children Through Google Classroom," Jurnal Pendidikan Bahasa Inggris undiksha, vol. 9, no. 3, p. 271, Dec. 2021, doi: 10.23887/jpbi.v9i3.38289.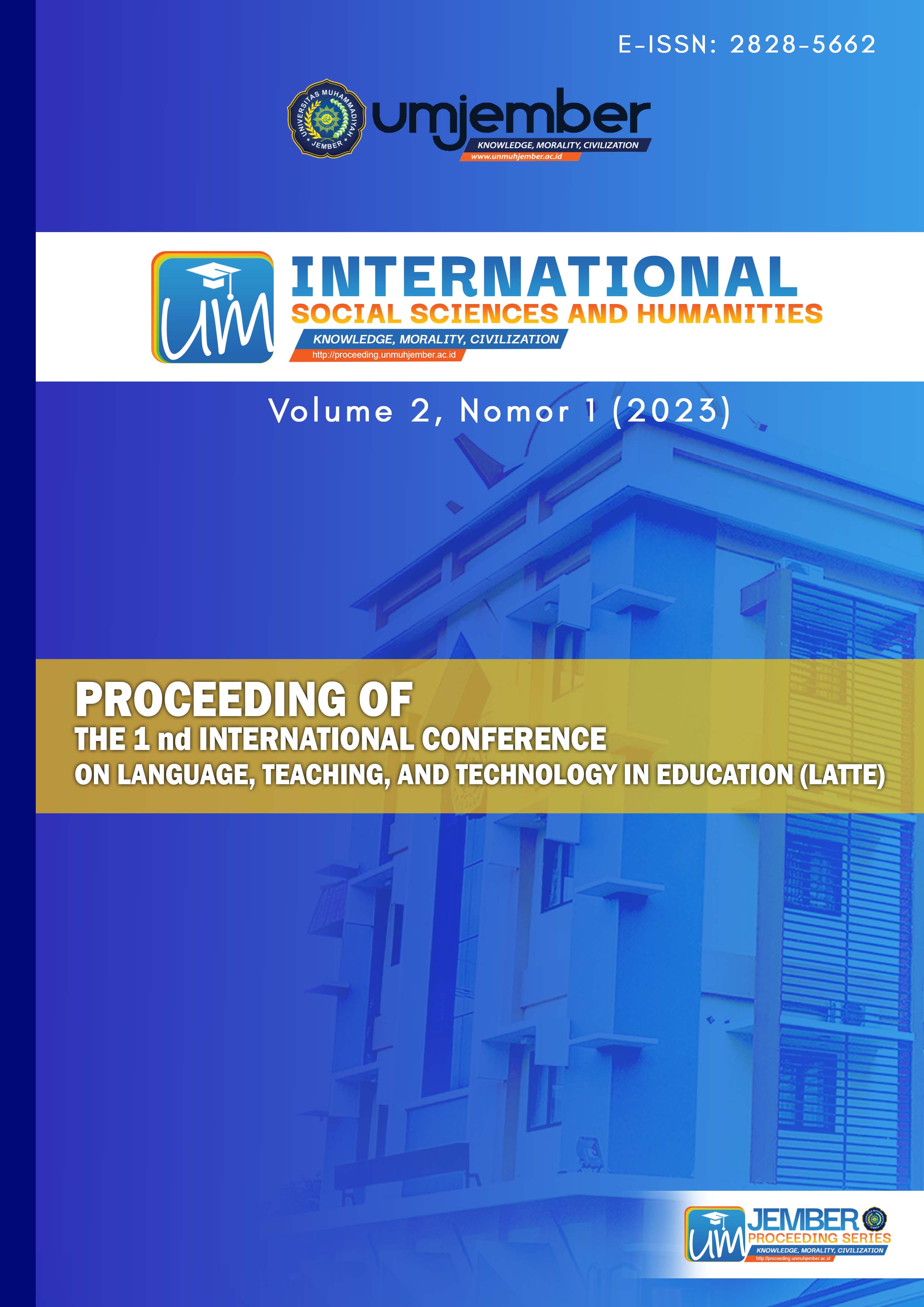 Downloads
License
Copyright (c) 2022 Nursalim Nursalim, Benyamin Mbete Mari
This work is licensed under a Creative Commons Attribution-NonCommercial 4.0 International License.