The Role of Online Media for Students' Reading Skills: A Case Studies
Keywords:
Online Media, Reading Skills.
Abstract
Online media is the activities which are done throughout the internet in order to take benefits from it: such as to post, exchange, and search for online materials using symbols, text, voice, and other. Online media is known as published media over the internet, such as in web-sites, social media, and blog. However, it is self-evident that the internet not only connects people and entertains them, but also gives intellectual and scientific knowledge. The purpose of this study is to explore the students' perception on the use of online media for their learning activities and the students perceive the use of online learning media on the development of their reading comprehension. This study used a descriptive method with qualitative design to observe and obtain information about a current phenomenon as much as possible. The instrument of this study is a semi-structured interview and questionnaire. For the data collection, the researcher gave some questions as an interview and explanation about how to answer the questionnaire. The results of research showed that online media is proven to help students in understanding the lesson.  From questionnaires that have been submitted can be concluded that online media is very influential in the learning process because it makes it easier for teachers to explain and answer student questions, getting students' attention to achieve learning goals. Thus, using online media to increase students' skills in reading comprehension is necessary as it is believed to help teachers and students to expand and support the English teaching and learning activities.
Downloads
Download data is not yet available.
References
"Cara menentukan persentase dari hasil kuesioner." Sistemphp.com. 2021.
"Online media definition." Lawinsider.com/dictionary/online-media. 2022.
B. Duke, G. Harper, and M. Johnston, "Connectivism. Betsy Duke, Ginger Harper, and Mark Johnston," Connectivism as a Digital Age Learning Theory, 2013.
C. Li, and F. Lalani. The COVID-19 pandemic has changed Education forever. This is how, 2022.
G. M. Bodner, "Constructivism: A Theory of Knowledge," Constructivism: A Theory of Knowledge, pp. 873-878, 1986.
H. P. Kamila, Pengaruh Pemanfaatan Media Sosial Whatsapp terhadap Motivasi Belajar Bahasa Indonesia di SMP Islam Al Wahab Jakarta Tahun Pelajaran 2018/2019, 2019.
J. W. Creswell, Educational Research: Planning, Conducting, and Evaluating Quantitative and Qualitative Research. Boston, MA: PEARSON, 2012. V. Braun, and V. Clarke, "Quantitative research in Psychology," Thematic analysis revised - final., https://doi.org/10.1191/1478088706qp063oa.2006.
L. Grenier. "How to analyze closed-ended questions in 5 steps." Hotjar.com. https://www.hotjar.com/blog/analyze-closed-ended-questions/, 2021.
Motivating reading comprehension. Concept-Oriented Reading Instruction, J.T. Guthrie, A. Wigfield, K. C. Perencevoch, Eds., 1st Ed [Online]. Available: https://doi.org/10.4324/978141061 0126, 2004.
N. Nurhasanah, S. Bambang, A. Merie, and U. Eviyatin Nisa. Students' perception on the use of internet as learning media in reading classroom, 2020.
P. Lowenthal, and R. Muth, "Encyclopedia of The Social and Cultural Foundations of Education.," Constructivism, 2008.
S. Sudiran, Students' Perception Towards the Use of Internet as Learning Media to Promote Reading Comprehension Skill, 2015.
T. Anderson, The theory and practice of online learning., 2008.
T. Purnomo, Students' Perception in Online Learning toward Reading Comprehension at Tenth Grade of SMA Negeri Kota Jambi, 2021.
V. Braun, and V. Clarke, "Quantitative research in Psychology," Thematic analysis revised - final., https://doi.org/10.1191/1478088706qp063oa.2006.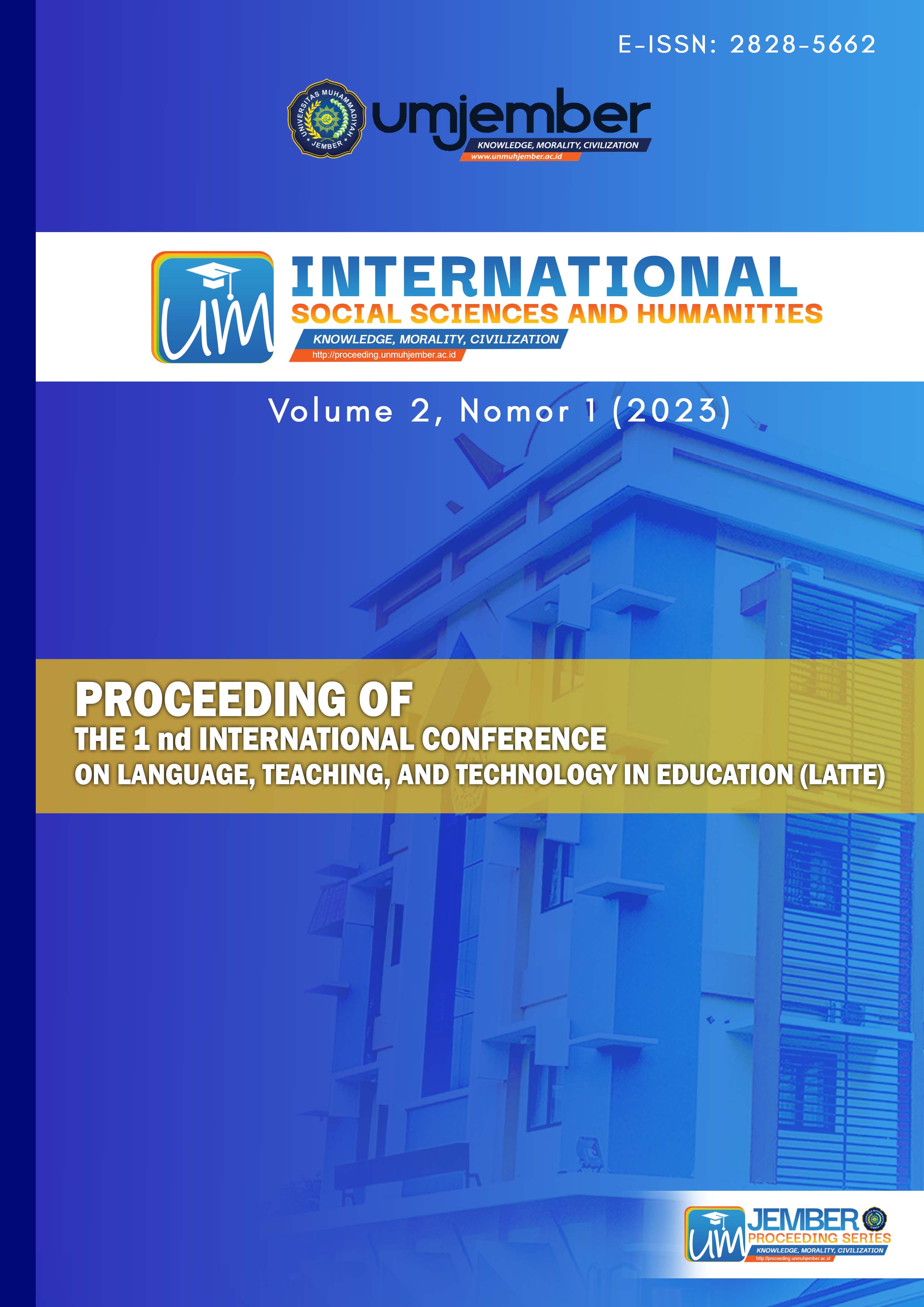 Downloads
License
Copyright (c) 2022 Gina Sonia, Hidayati Hidayati, Rima Rahmaniah
This work is licensed under a Creative Commons Attribution-NonCommercial 4.0 International License.